Make Sure Your Roofing Contractor
Is a Commercial Roofing Expert
Many roofing contractors who primarily do residential roofing are more than willing to accept commercial assignments. However, are they capable of handling the challenges that come with larger buildings, and flat or low slope roofing? Do they have experience with the kinds of roofing materials required on commercial buildings?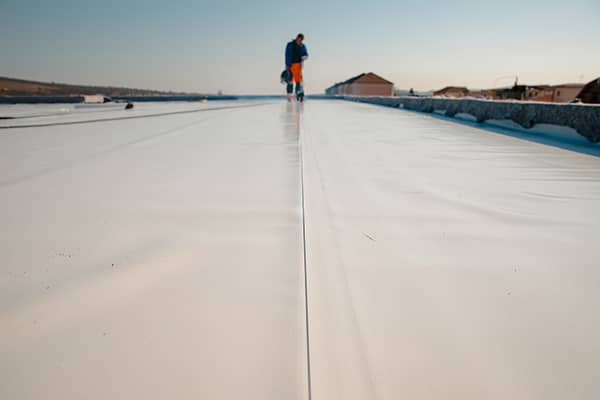 When you are seeking a company to take care of your business, warehouse, restaurant, apartment building, office complex, industrial facility or some other type of commercial building, these are the questions you should be asking. At Tony's Roofing Services, LLC, our answer to both is a resounding "yes"! We have been providing roofing solutions for business owners and managers in central, south and west Texas since 1999. That gives us:
Knowledge about which types of roofing stand up best to our area's weather
An understanding of the need to respect a company's bottom line, by offering affordable repair and replacement services
The ability to recommend materials that will be both high-performance and long lasting
Options for Your Building
Thermoplastic polyolefin (TPO) is a strong, single-ply roofing membrane that is optimal for low-slope roofs. It has become very popular because it is heat- and ultraviolet (UV) resistant and is very affordable, even for large projects.
Ethylene propylene diene terpolymer (EPDM) is a durable synthetic rubber roofing membrane.
Modified Bitumen (MB) roofing has five layers to help it stand up to the weather. It is asphalt-based material and ideal for low-slope or flat roofs.
Built-up roofing (BUR) is another multi-layer material. It is durable and long-lasting. Those layers make it fire- and wind-resistant. BUR has reflective qualities that help interior temperatures stay moderate and energy bills stay low.
Contact Us for an Appointment
When you are choosing a roofing contractor to make sure your building is watertight, wind-resistant and energy-efficient, don't just go with one that says they can do the job. Use a company with a proven track record in commercial roofing. Call Tony's Roofing Services, LLC at (423) 464-0434, or use the convenient online form to schedule an appointment.